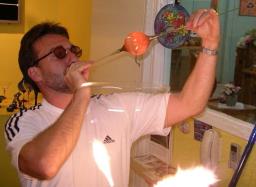 ART GLASS AUSTRALIA - WOLFGANG ENGEL
With the deft touch of a magician, Wolfgang Engel, Bundaberg's leading glass artist, breathes life into an amazing array of exquisitely coloured objects. From tiny penguins and mystical freeform leafy sea dragon shapes encapsulated in translucent art contemporary display, his enchanting art beguiles all ages.
Having studied civil engineering at university in Germany, Wolfgang began his career. Meeting the artist Rose-Marie changed his life. Artist friends influenced the future of the young engineer. He would begin to embrace the world of colour and light.
Wolfgang Engel's expertise was gained at the famous glass blowing village of Lauscha in Germany, where he was apprenticed, before being drawn to the idyllic artist's colony Ahrenshoop on the Baltic coast. He ran a successful art glass business for many years before the trip to Australia in 1991 changed his life once more.
The seemingly effortless transformation from clever idea to finished product has to be seen to be believed. The fascinating glass blowing process on the at Wolfgang's unique gallery space in Schmeider's Cooperage Complex, Bundaberg, called 'art glass' uses specially imported hand made glass tubes of many stunning colours. This is combined with the skill of a master craftsman/artist./engineer to blend century old traditions of glass blowing with an appreciation and love of the shape and colour of Australian flora and fauna. Undaunted by being in the publics gaze, Wolfgang delights in sharing his art with others.
The glass combines raw material such as soda, lime and metal oxides, such as cobalt or copper to give vibrant colours, and is heated to 900 degrees to render it soft enough to shape. Combining colours under the flame of a touch while constantly manipulating the softened glass demands great manual dexterity. Incorporating one coloured creature inside another is definitely magic.
Wolfgang is known for his beautifully crafted glass pens, an ancient tradition from Venice, Italy. Attention to detail in the nib combined with a typically Venetian form of decoration in the handle, reflect a craftsman with an engineering background. Having exhibited world wide, Wolfgang's art can now be seen in many Australian galleries, as well as locally.