Details

Category: Rustins Danish Oil
Created: Saturday, 19 July 2014 21:46
Last Updated: Monday, 27 July 2020 10:00
Published: Saturday, 19 July 2014 21:46
Written by bundykegs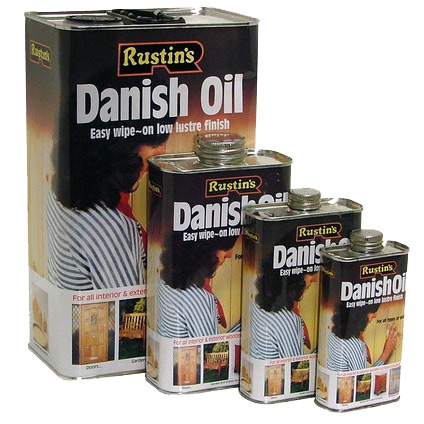 The easy wipe-on low lustre finish for all types of wood on all interior and exterior wooden surfaces including doors, dressers, cladding, garden and indoor furniture, window frames, turned woodwork and more. Apply liberally with a clean rag or brush and wipe off the surplus oil after a few minutes for a natural low lustre finish. Danish Oil is a special formulation developed by Rustins Ltd. It is based on Tung Oil, also known as Chinese Wood Oil.

The oil is extracted from nuts, similar in size to a Brazil nut, that grow on species of trees found mainly in China and some areas of South America. After processing the oil is blended with synthetic resins to improve hardness as well as other vegetable oils. Driers and solvents are added to improve the performance and application properties, so that Danish Oil may be applied with a rag or brush.The special ingredients used in the manufacture of Danish Oil penetrate deep into all types of timber, drying to a hard, durable and water resistant seal. Unlike varnishes it does not leave a thick film on the surface which may peel, chip or craze on ageing.

The oil dries quickly in 4 to 6 hours, depending on ambient temperature and humidity, producing a non tacky surface. It does not, therefore, pick up dust as will wood treated with linseed oil.

To read more about Rustin's range of woodworking finishes, visit their website at www.rustins.co.uk.